Medical Assistants - A Global Career
By SCMA On 23/10/2017



India is on an accelerated growth with healthcare spreading its winging in accessibility, innovation and advanced therapeutic care. Medical Assistant is a growing career opportunity with training at global standards.
India's Healthcare challenge unique and complex offers remarkable opportunities to meet the changing needs with technology, knowledge and human resources. The industry worth a $100 billion today and fast growing at a CAGR of 23% is expected to deepen its penetration in terms of geographic reach and accessibility to all. The twelfth five-year plan articulates the vision for universal health coverage, giving the healthcare sector a boost in terms of revenue and employment.
A challenge that plaques growth in the healthcare sector is the Patient Experience, as the healthcare industry evolves from the volume-based care to value-based care services. Empathetic skills and delivery of patient centred care have become an integral need for hospitals, out-patient care centres, and other healthcare units. Patients are now being looked upon as consumers with beyond physiological needs for all healthcare services. Electronic drug sale, home care solutions, mobile-medical testing laboratories, market place for doctors, etc. India is at the forefront of technology and healthcare innovations, agro-dietary market, and healthcare staffing developments. The confluence of adverse health factors, healthcare providers – from hospitals and hospices to dental surgeries and aesthetic clinics – are facing tough challenges with evolving talent needs to support this growth.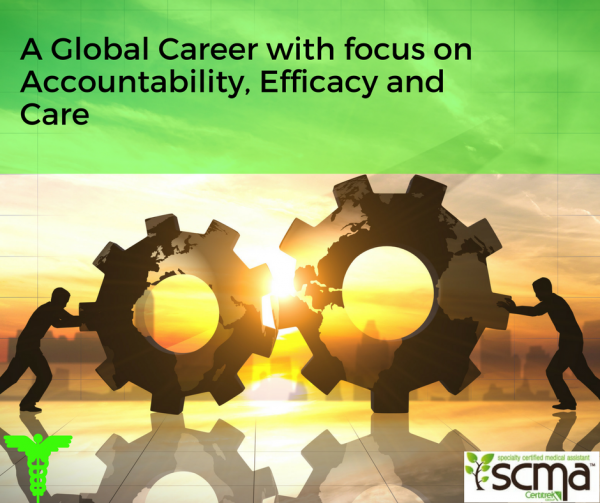 Value-based healthcare services are inclining towards trained and certified medical staff who manage the administrative and operational duties with efficacy. Certified Medical Assistants outperform their uncertified peers by a whopping 85% in terms of capability, value derivation/contribution, and skill testing. With changing compliances and global standards of healthcare practices, certified medical assistants create a patient experience that is often a value proposition keeping in mind the growing medical tourism market in India. Skilled medical assistants, are trained in 3 specific verticals: Clinical Knowledge, Behaviour & Attitude, and Administrative skills. Clinical knowledge is a vertical that medical assistants can specialize in, along with the administrative constructs that may vary. The anchor program, Certified International Medical Assistant works as a pre-requisite for all specialty programs and focuses on training the medical assistant in all the three areas with aptitude, attitude, and acumen.

As India prepares itself as the frontier for transformation and development, Specialty Certified Medical Assistants truce the engaging need for quality talent and operational excellence with Certified International Medical Assistants. Capacity and capability are Siamese twins that would navigate the healthcare industry on its transformational journey and deepen its roots to a wider set of consumers in need for world class healthcare facilities with intuitive care.