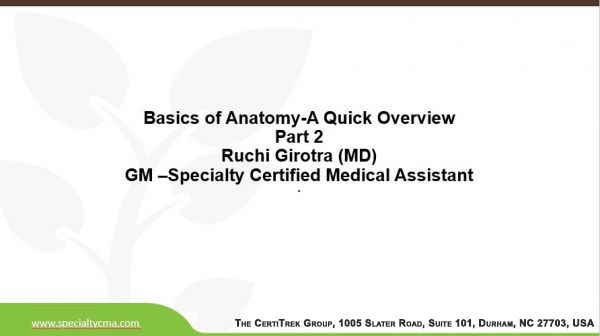 Register Today: Basics of Anatomy – A Quick Overview (Part 2)
Part 2 of this series -Basics of Anatomy - is intended to clear common concepts in Anatomy and will cover Anatomy and Anatomical Terms, common medical conditions in the specialties of Orthopedics and Cardiology. The topics would also be useful for preparation for the Specialty Certified Medical Assistants Examination.
Who should attend this webinar?
healthcare professionals
doctors
practice managers
healthcare entrepreneurs & entrepreneurs in general
Join Ruchi Girotra, MDA, MD, DNB as she provides valuable information on clinical history, examination and some common investigation needed in routine clinical practice which will add to the knowledge of HCP.
SIGN UP TO WATCH WEBINAR